Ah, the eternal hunt for the perfect bronzer. Does it even exist? Sometimes I wonder!
While out at ULTA, shopping for my NYX haul, I saw the Physician's Formula bronzer that I want to try.
Then I saw the price.
Yeaaaa.... I'm all for paying a pretty penny for higher-end products, but not for something I can get at Wal*Mart or CVS. That sounds so snobbish of me LOL.
So I moseyed over to CVS and saw their NYC bronzer called Sun 'N Bronze Bronzing Powder. I figured why not give that a shot... It's only $4.99, so no harm done if I don't like it.
It comes in a few shades, and the one I chose was Coney Island Glow.
I'm not 100% sure of the wear time, but so far I REALLY like it! The color is pretty and the shimmer is juuuuust right for my skin. I combined this with Benefit's Coralista blush and it makes a really pretty glowy bronzey pink color.
The picture of all the colors swirled together doesn't do the color justice. It also looks really shimmery, but I can assure you it's really not. It has just the right amount of sheen. I know when you have oily skin, you're supposed to stick to matte products, but I'm a weirdo and I like my skin to look dewy. My face is going to get oily anyway, so why not just use products that have a sheen to them, right?
It comes with a clear plastic lid that comes completely off. I think this is pretty convenient, and it's fairly mess free. My biggest complaint so far is it has a somewhat Pine Sol scent to it, but it does NOT translate to when you're putting it on. It only smells like that in the pan (I'm weird and smell all my makeup before I put it on my face).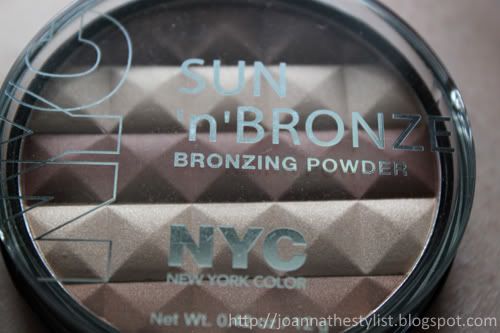 It has five bricks of color, but only three individual colors, if that makes sense. The swatches that I put up are of the individual colors, and then of them swirled together.
Without flash: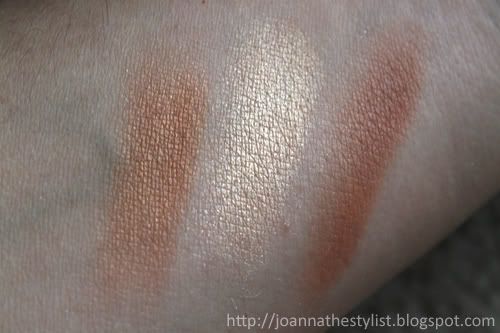 With flash: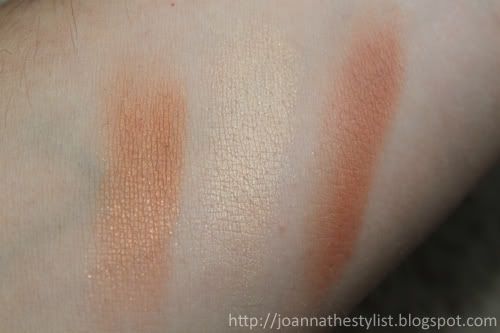 Swirled together without flash:
Swirled together with flash:
Here's a picture in natural afternoon sunlight: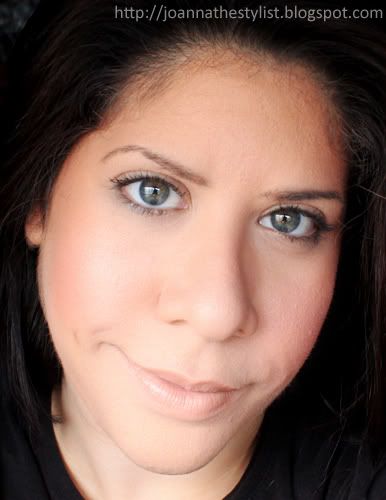 And the following two photos are in the bathroom, where I'm using those energy efficient bulbs: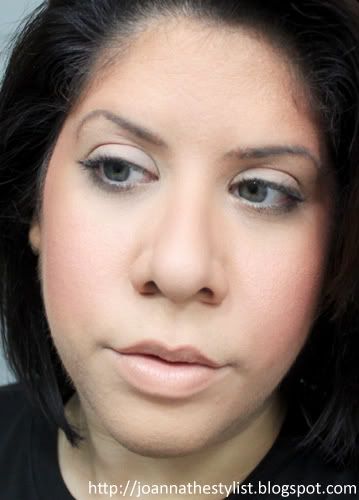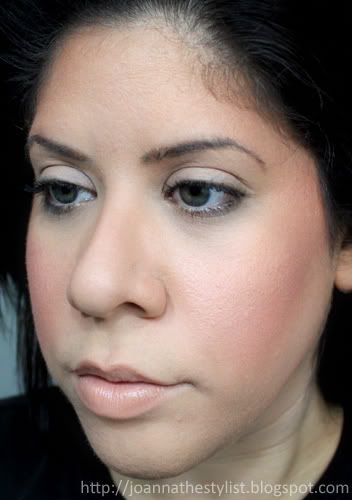 See, it's totally different on the face! If the wear time is decent on this one, then I think it's going to be my go-to bronzer. If this can survive a busy day in the salon, then it can survive anything!