I know, I'm lame. I've taken entirely too long to post a new look. I'm sorry :D
Things just keep getting more and more hectic at the salon. I wear makeup (nearly) every day, and whenever I do something other than my five-minute-face, I will take photos. Those photos turn into little dust bunnies on the memory cards and then I realize "oh, right, I have a blog!" LOL
As always, I asked my wonderful partner what kind of look I should do a few days ago. She said "something bright for spring". I dug out the 88 palette and set to work!
I had a few problems with the lightning for these pictures. Normally I take my photos at night, so I use the "slow" setting on my camera with flash to help combat shadows. If I take any pictures during the day, it's after the sun has already moved from beaming directly onto my porch. With daylight savings time and an eastward facing porch, it was hard to get the lighting JUST right for these. I apologize if some of them are blown out or over processed. Absolutely ZERO editing was done to the makeup itself. I just fiddled with the contrast and in the one closeup shot, I airbrushed out my wrinkles (allergies have been wreaking havoc on my skin) and I also lightened up a shadow or two.
Also, new haircolor! What do you think?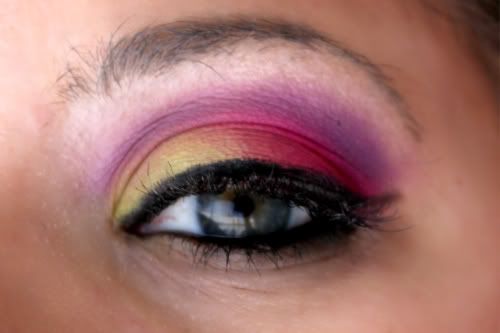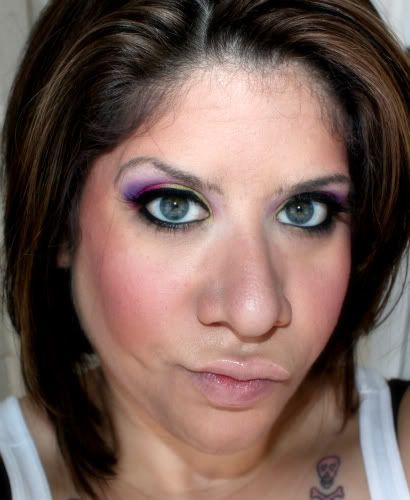 silly face ;D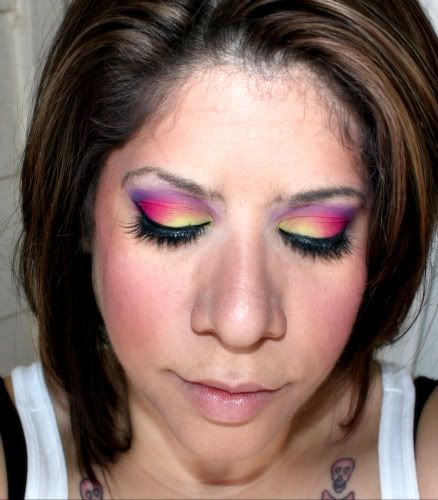 Products Used:
Face:
*Revlon ColorStay foundation in 180 Sand Beige
*Sephora Compact powder foundation in Light 20
*No name bronzer
*Benefit blush in Coralista

Eyes:
*TFSI
*NYX eyeshadow base in White
*88 palette - hot pink, lime green, deep purple, pinky-purple
*MUFE kohl eyeliner in 1K
*Maybelline Eyestudio gel liner in Blackest Black
*CoverGirl LashBlast Fusion mascara in Very Black
*Sephora lashes "Tempting"

Lips:
I wish I knew the name! It's an ULTA gloss that's baby pink, almost white. I love it!
Every time I have some kind of creative makeup going on, I take a picture with my phone and post it directly to my Facebook page. One of my best friends said that it looked like a Rainbow Margarita! What do you guys think?