Hi beauties! I hope your January is going well so far.
Mine? It's going amazing. Like... I can't ask for a better way to start the year. 2011 was so off because of so many reasons and I'm truly hoping that this year fares better. I'm even sticking to my resolution to maintain a 365 Project. Granted, it's only day three, but still. My normal attention span is about an hour LOL.
So while I was thinking of ideas for today's look, I realized that I had this gorgeous Inglot navy blue that I've only used once.
Ok guys, sit down, grab a bag of popcorn and let's talk about Joanna's visit to Vegas in February of 2011.
I went to Paul Mitchell school here in Jax and we had an opportunity to sell our way to Vegas. We had these bags of product we had to sell. Nothing stood between me and that trip and before I knew it, my name was on the board of people who made their way. EVERYTHING was paid for (except for food). We stayed in Caesar's Palace and had an amazing suite. There were three other girls and myself. It was pretty amazing.
One of the girls that had gone and was in my room was a good friend of mine who knew Vegas pretty well (she'd gone out there numerous times for work conferences). She said there was a mall underneath Caesars (who knew?!) and that there was a giant MAC store. Cue angels singing and harps ... harping? now.
So we took our second day to head off in search of this MAC store. We had the famous Paul Mitchell white party that evening and I wanted to find some good makeup. It was way early when we went traipsing about so we grabbed food. On the way to grab food, we both noticed (at the same time) Inglot tucked into a corner. We both had heard about this little unknown brand at a three-day makeup conference we had attended just a few weeks prior. We grabbed our food and patiently stalked the store until it opened.
I created a beautiful little five-pan palette for myself with my favorite colors for smoky eyes (plus two highlighters). I used the navy blue that evening, decided I hated it, and never used it again.
Until tonight.
So, long story short... here's my deep blue sea look :)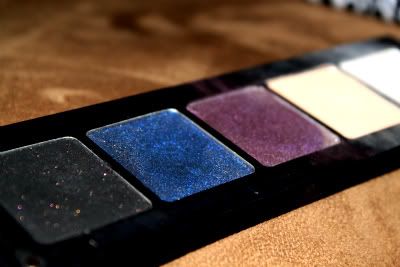 The color in the pan... don't mind how dusty it all is.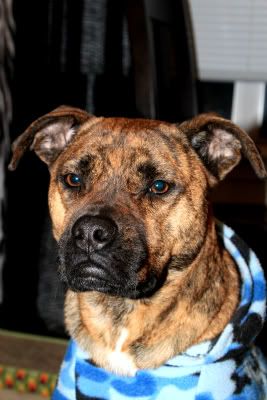 My pup, keeping a close eye on things. Mind you, he stayed within a foot of me the whole time while I was doing my makeup.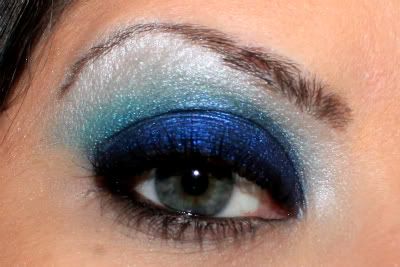 I'm not sure what's going on with this one. I blended and blended and blended some more for good measure, but the picture kept picking up this weird... arc thing. It's not there when you look at the eyes in real life, so maybe it's just a way my skin is folding over plus the camera. Who knows.
I really need to STOP arching that brow LOL.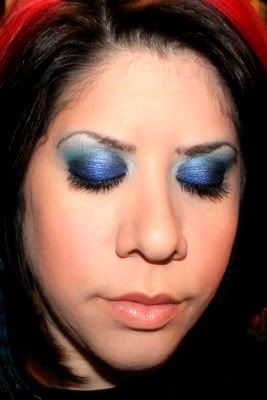 Now. I do wear contacts. I also wear glasses, mostly when I'm working, because it hurts when I get hair and product on my contacts. So I'm thinking that from now on, I'm going to include pictures of what the makeup looks like with glasses on. This is for all the girls out there who want to wear fun makeup, but are afraid to because their glasses might block their eyes. Wear them with pride, near (or far) sighted ladies!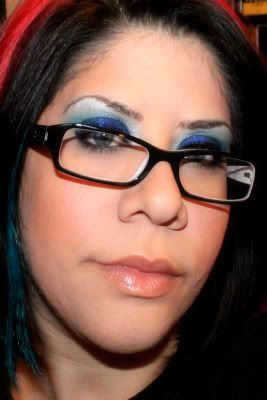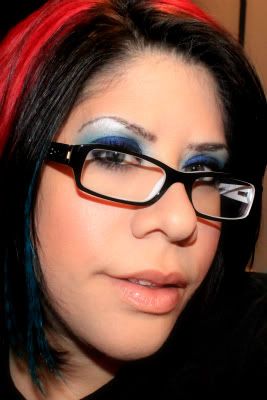 Products used:
Eyes:
*Too Faced Shadow Insurance
*Ulta's navy eye pencil all over lid
*Inglot 428P (navy) all over lid
*Sephora Swimming Pool No 37 in crease
*Ulta Deep Sea & Key West in "upper crease"
*Inglot AMC35 (shimmery white) in highlight, tearduct area, and to blend the crease
*Makeup Forever Crayon Kohl liner (black)
*Covergirl LashBlast fusion (black)
Face:
*Revlon ColorStay foundation in 180 Sand Beige
*Bare Minerals Mineral Veil (only because I'm out of my regular powder [I sound like a broken record LOL])
*Ulta bronzer, Afternoon Delight blush and Infatuation blush all mixed together to contour as well as blush
*Ulta Super Shiny gloss (there's no name on the tube *pout*)
Needless to say, I think I've fallen in love with this navy color! Definitely using it again!!!