I was asked recently to create a look for a friend who wears OMG BRIGHT red glasses. Seriously, these glasses are pretty amazing. The only problem is, though, that when you have killer glasses, you can't pull off too many looks.
I asked her what her preferences were and she said she loves neutrals. My
Urban Decay Naked Palette
popped into mind (swatches can be found
here
).
I decided I wanted to take the neutral look one step further and showcase how you can take it from day to evening. This is a very simple and easy-to-wear look. Enjoy!
Products used:
Too Faced Shadow Insurance
MAC Matte Creme Primer
Urban Decay Naked Palette
Revlon Colorstay Foundation in Sand Beige
Bare Minerals mineral veil
No-name palettes for my blush and to fill in my brows
Ulta mauve lip gloss (it doesn't have a name on the outside, and mauve is the closest color it appears to be)
CoverGirl Lash Blast Mascara
Start by priming your eye:
Use a flat brush and apply "naked" all over lid: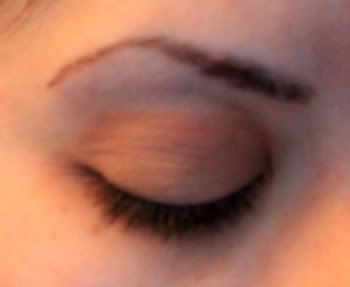 Use a fluffy crease shader brush and fill in the crease with "buck":
Using the same fluffy crease shader brush, blend "half baked" above "buck". Also, use "virgin" to highlight underneath the brow: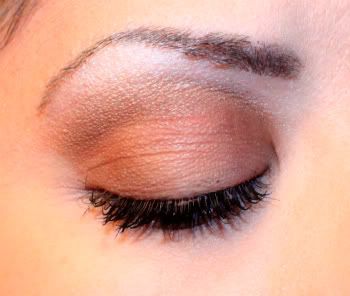 Now, this should be where I took full face shots so you could all see the daytime look. I, however, fail at remembering things, and got really excited and kept going. So I'll just type out what I did next LOL.
I applied my foundation, powder, blush, filled in my brows, and put on mascara and lip gloss. This would be an awesome daytime look. Like I said, though, I got really excited at showing how you can take a daytime look to evening and went full speed ahead.
Take a brown pencil, line the upper lid close to the lashline, and smudge. Also, line water line, lower lashline and smudge as well:
Then take "darkhorse" and, using the flat shader brush, gently pat it all over lid (concentrate it more on the lashline) until you get the desired effect: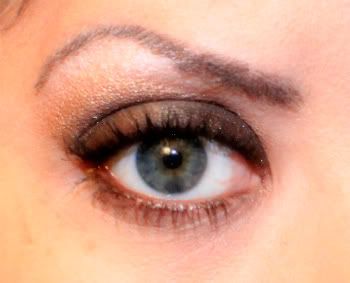 Apply a little more eyeliner, closer to the lashline, reapply mascara and voila!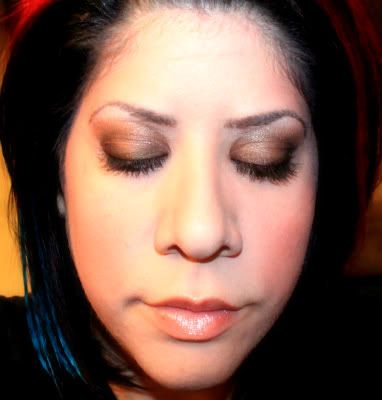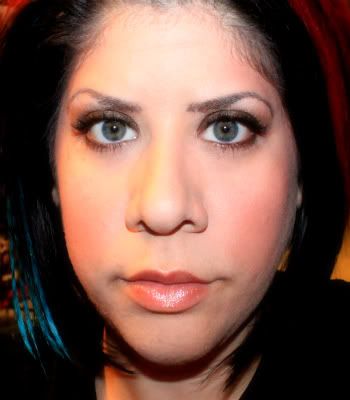 Here's how it looks with glasses on, although mine aren't epicly bright. :)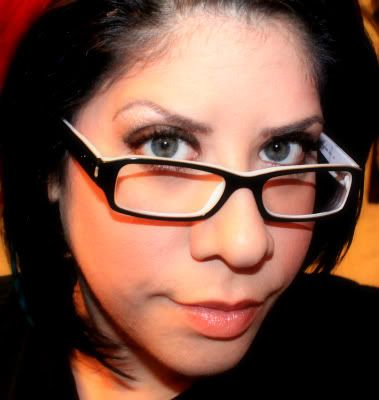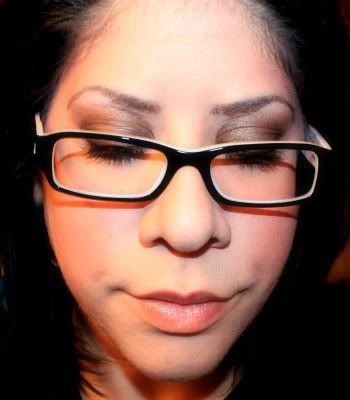 I love this look! This is a really fast, easy look that can be dressed up or dressed down. This can be worn with any color lipstick. You can also use either a brightly colored eyeliner or an angled brush with a bright eyeshadow to bring a pop of color to the lower lashline. Have fun, enjoy and thanks for stopping by!