So on Friday, while cleaning, I threw my back out. This made working on Saturday extremely difficult, especially when it came to shampoos. I wound up leaving about an hour before my shift was over since it was slow anyway. I came home and took a painkiller to try and help ease the pain. I figured I'd just fall into a narcotic-induced coma and sleep until 4AM or some crazy hour.
As it turns out, I had the exact opposite reaction and was crazy wired. Granted, the pain went away, but still. I was WIRED.
I practically had makeup brushes in my hand, ready and waiting, when Ash walked through the door at nearly midnight from her job. She's always saying how she'll be my willing victim, so I jumped at the opportunity to play with makeup on her.
We started out with a basic smokey eye, but since I haven't done makeup on someone else since a wedding I did in November, it came out a little off. No photos of that, since I want to try it again.
I had her remove the makeup, just on the eyes, and while she was doing that, I got to thinking... what do I want to do? What do I want to practice? I've always loved the look of makeup masks, and I know that is definitely an area I need practice in. My last one came out "eh" at best.
MakeupBee had posted a STUNNING mask to their Facebook Fan Page and as soon as I saw it, I knew I was going to use it as inspiration. The colors I used are nearly identical to those used in the inspiration mask, but mine is less ornate. I just want to get my blending down pat before I start getting fancy with the edges like in the inspiration. Plus, I don't have a fine tipped brush, nor do I have liquid liner, both of which would be useful for making very ornate patterns along the edges of the mask.
Products used will be listed at the bottom, as well as a link to the inspiration mask. Please let me know what you think!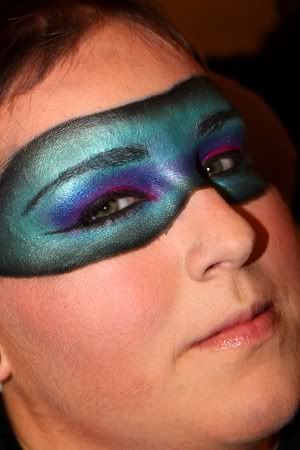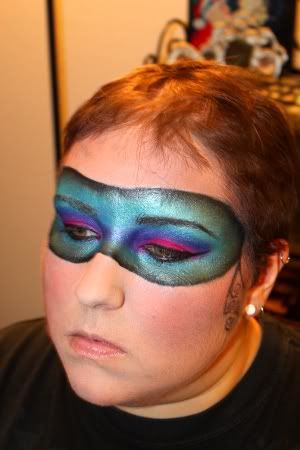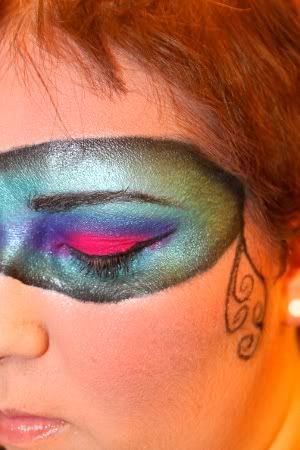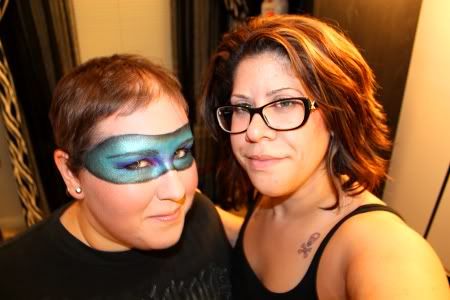 What a good sport she is. It was nearly 1:30AM by the time this picture was taken. It took the both of us about 15 minutes alone just to scrub it off. :)
Products Used
Face:
Revlon ColorStay Foundation in 150 Buff Chamois
Bare Minerals Mineral Veil for the finishing powder
No-name blush/bronzer to contour
Eyes/Mask:
NYX Eyeshadow Base in White Pearl
88 Palette for the mask: turquoise, hot pink, dark blue, dark purple, black
Maybelline EyeStudio Gel Liner in Blackest Black
CoverGirl Lash Blast Fusion Mascara in Very Black
SallyGirl Baked Eyeshadow in 388120 (a beautiful teal color) - I LOVE this stuff!!!
Here's the inspiration - https://www.makeupbee.com/look.php?look_id=16893 (clearly mine is WAY different than hers!)