I decided that once I started working in a salon I would do something fun with my hair. I did a block color and have a triangle of pink on the top of my head with the rest of my hair being black. I love it. I do not, however, love the upkeep. It's just a nightmare!!!
I get my roots bleached every six weeks (I normally have well over an inch of growth by that point) and I have to re-dye the pink every two weeks.
I was using Manic Panic's
Hot Hot Pink
, which left it a nice vibrant HOT pink. I love it and may wind up going back to that color.
I decided I wanted to try Pravana's
Wild Orchid
shade today. I loved the results I saw from this at the various hair shows and I figured my hair would be just as vibrant.
Here's the before shot: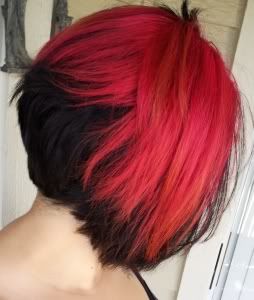 You can see where the ends go orange, but the roots are VERY bright.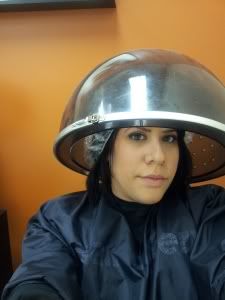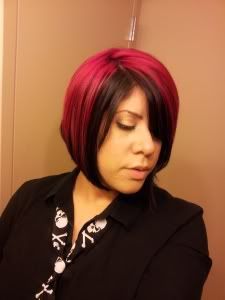 ...and the after shot. It's not an outside shot, and the only lighting I had where I could take a self portrait was the super warm bulbs in the salon bathroom... It's not as vibrant as I normally like my hair to be. I'm hoping this is just because of how late it was when I finally decided to put the color in.
I'll be making sure to take some shots in outdoor lighting as soon as possible... I'll also give you guys an update in two weeks to see just how much this has washed out as opposed to the Manic Panic.