Good morning beauties!!!
Since I work in a salon, I get to wear some crazy makeup. Sometimes, though, I just want to wear something a little more neutral.
Today was one of those days... It started out with my desire to FINALLY wear a winged liner look. (Yea, I made it to 30 without ever being able to successfully create one LOL.)
Normally a look like this would be paired with red lips, but since my lips take up a good portion of my face, and I feel like a clown with red lipstick on, I skipped it and went with a pinky gloss.
(All photos were taken in sunlight outdoors - hence why my brows are a little furrowed LOL)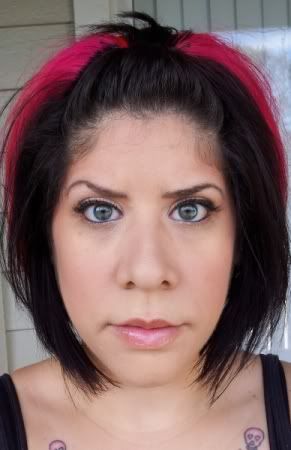 Products used:
*Benefit Stay Don't Stray
*MAC Matte Creme
*Revlon ColorStay Makeup for Combo/Oily Skin in 180, Sand Beige
*bareMinerals Mineral Veil (I normally used MAC Mineralize SkinFinish Natural, but I've run out. Don't worry, it's on my Christmas wishlist!)
*No-name blush/bronzer and eyebrow powder
*Maybelline Instant Age Rewind Dark Circle Eraser in Neutralizer
*Inglot 467 DS all over lid, up to brow and in inner corner of eye (this is a beautiful shimmery peachy shade)
*Lorac 3-Debut in crease
*Makeup Forever Kohl Liner
*Smashbox Full Exposure Mascara
*NYC Liquid Lip Shine in Cherrywood with a Jordana gloss over the top
That looks like a LOT of product now that I look at the list LOL. This look took me 15 minutes total time to create (and that was with waiting for my primers to dry and settle in). The only reason it took that long was because of my attempt to get the wings just right. What do y'all think?