According to
Wikipedia
, The Butterfly Effect is defined as "the sensitive dependence on initial conditions; where a small change at one place in a nonlinear system can result in large differences to a later state."
I love chaos theory. It makes me smile as it reminds me of the chaotic nature of my brain. I also love the movie Butterfly Effect, ESPECIALLY the director's cut ending. Don't worry, I won't spoil it for you. ;)
I'm only calling this post The Butterfly Effect because of the actual inspiration. I didn't want to just have a ho-hum name like "yellow/green/red butterfly" LOL. I also love how chaotic my particular butterfly is.
See, doing a Google search for butterfly makeup, exotic butterfly makeup, butterfly inspired makeup, etc., yields the same look, with very few exceptions. It's mostly a mix of blues, purples, and blacks. While those are gorgeous colors, I wanted to do something different than the norm.
Why butterflies? Good thing you asked! We received a pamphlet in the mail that said the new Butterfly Hollow would be opening in Jacksonville Zoo in a few weeks. I haven't been to the zoo since my wedding two years ago. I love zoos. LOVE! I know some of my readers will be mad at me for that, since some people feel that zoos are cruel for the animals. I see the good in them: thanks to zoos, certain animals have been brought back from extinction! Plus, where else in the world will I get to see two stunning jaguars up close and personal! Plus, bats! Eee!!
So yea, I'm SO excited about the new Butterfly Hollow that I did a bit of research and found inspiration in a beautiful butterfly.
Products used will be at the end :)
Also, I apologize now for the million pictures lol. I was really excited about my very first cut crease!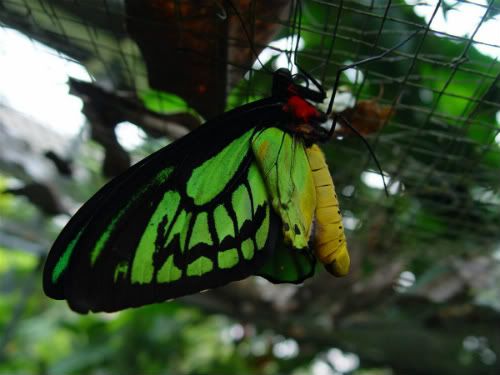 The inspiration!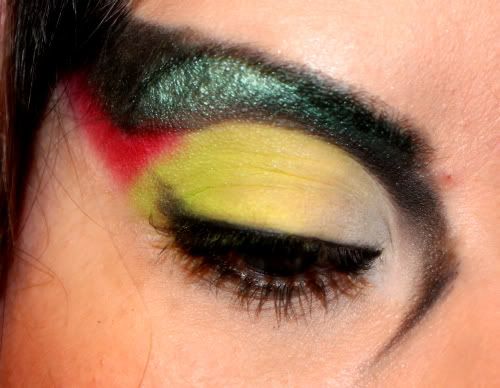 Products Used:
Eyes:
-Too Faced Shadow Insurance
-NYX Eyeshadow in White
-NYX Eyeshadow in Mellow Yellow
-NYX Eyeshadow in Light Green
-NYX Eyeshadow in Exotic Green
-A no-name super bright green shadow
-A no-name red shadow
-Sally Girl Baked Eyeshadow in Teal
-MUFE Kohl Pencil in 1K
-Smashbox Full Exposure Mascara

Face:
-Revlon Colorstay Foundation in 180 Sand Beige
-Maybelline Age Rewind Undereye Treatment in Neutralizer
-Sephora brand Compact powder foundation in Light 20
-No-name bronzer & blush

Lips:
-A mix of Ulta's Dare to Bare & Sweet Pea over lips that were covered with foundation (click here for swatches)
Please let me know what you think! It's a little messy, my eyes started watering, and I've seen it done better... but! I'm super proud of this look!!